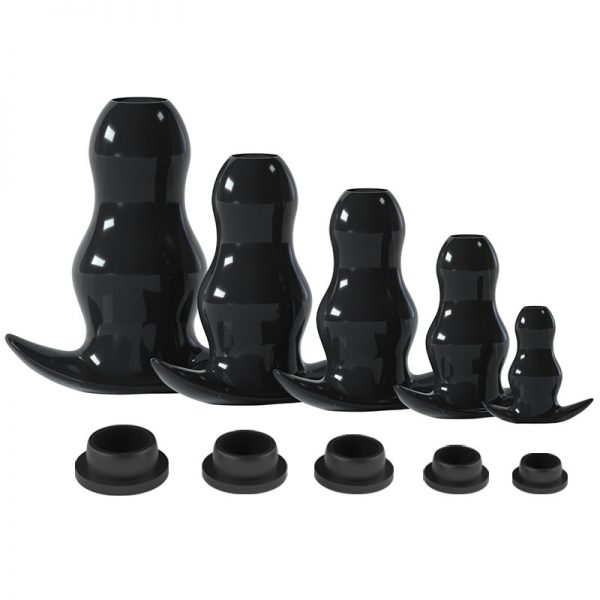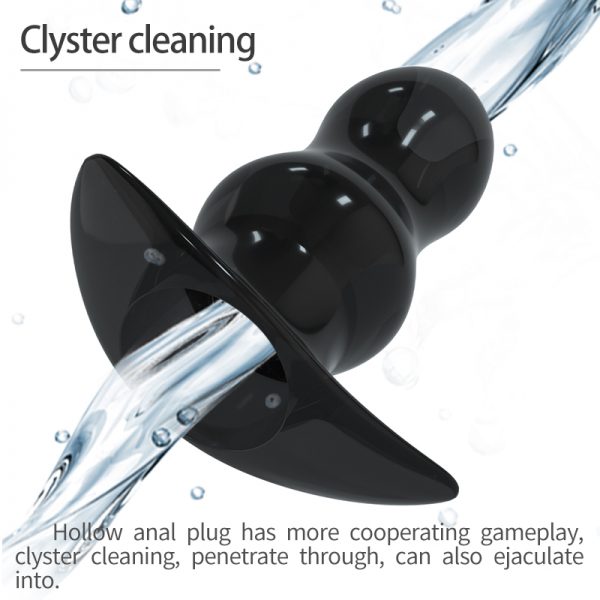 black L no plug
black M no plug
black S no plug
Black size L
Black size M
Black size S
Black size XL
Black size XXL
black XL no plug
black XXL no plug
L no plug
M no plug
S no plug
Translucent size L
Translucent size M
Translucent size S
Translucent size XL
Translucent size XXL
XL no plug
XXL no plug
Hollow butt plugs are a popular sexual aid that can transform one's mood into a unique sensation. It's designed for
Hollow butt plug is just as popular, but with only one modification, this upgraded version is ruling the market. Try the best hollow butt plug today. But what's the rush? Take a moment to read all about this new kinky toy that is waiting to be added to your collection.
The special thing about hollow butt plugs is that they are very versatile, this one is not only for pleasure but also has practical value as one of the erotic items.
A hollow butt plug is a regular plug, but with an empty center. Now you may think that you have a hollow butt plug is enough. Let us tell you that this one is completely different from your regular anal plug and if you miss out on that experience, you will never know what is better than a hollow butt plug!
When it comes to knowing which hollow butt plug to buy, as with any anal toy, you have to remember to start small and use plenty of anal lube. Some of these hollow butt plugs are quite a challenge, so if you're a complete beginner then you're probably best to start with something small like a tail plug and work your way up.
Then again, if you're willing to take your time, there's nothing that says you can't dive into the deep end ……
The practice of anal sex has long since ceased to be considered taboo. And, whether you're a beginner or an experienced person, careful selection of models is crucial to having more fun and being safe. Below we provide you with some basic features and criteria to consider before choosing a hollow butt plug.
What Is a Hollow Butt Plug
The hollow butt plug differs from the classic anal plug in that it has a tunnel that goes straight through the hollow anal plug. Due to the hollow, it provides extra stimulation and is a great toy for solo play or couples' parties.
Thanks to the extra suction, this hole in the middle provides a tantalizing sensation. It can even be worn in your underwear in public, just like the classic butt plug.
Features to Consider When Choosing a Hollow Butt Plug
Material
For erotic products, it is important to choose the right material. Erotic toys like hollow anal plugs should be inserted into your body, and with substandard or toxic materials, they can cause allergies or more serious consequences…
Silicone
Silicone is considered to be one of the best materials for making erotic toys, and all high-end hollow butt plugs are made from silicone because it is hypoallergenic, but if you are allergic to silicone, stay away from it.
Silicone hollow butt plug is also phthalate-free, which is an advantage because phthalates can cause considerable damage to your body.
Metal or glass
These are non-porous materials, which means they are the least likely to attract harmful bacteria. They can also be cleaned with regular soap, but the smell may stubbornly remain on the metal hollow butt plugs. Thorough cleaning is important for both of these materials.
Waterproof
IPX7 erotic toys are the most waterproof erotic toys. Models made of silicone are the most waterproof, but clean them effortlessly. Not only are they waterproof, but they are also flexible and non-porous. These qualities ensure that they are easy to clean and clean, can be submerged in water, and are less attractive to bacteria and infection. Thankfully, all of the recommended models in our review of the best hollow butt plug toys are completely waterproof. Therefore, this should not be a problem.
Circumference
The circumference of the hollow butt plug depends on whether you are a professional or a beginner, and the circumference of the hollow butt plug for beginners is smaller than the one designed by professionals. You have to start with thinner ones and work your way up.
The ideal width for beginners is between 4 and 6 inches in circumference. Professionals can measure up to 8 inches.
Length and insertable length
Hollow butt plugs are made up of three different sized sections, be sure to check the dimensions of each section and the whole before you buy.
The maximum insertable length of the hollow butt plug is about 4.5 inches, which is best for pros, but if you're a beginner, try sticking to 3 inches.
Flexibility
Flexibility depends on the material used to make the hollow anal toy. Toys made of silicone are very flexible and give a soft feel, while metal butt plugs and glass butt plugs are very strong in construction.
Color
Clear glass hollow butt plugs are popular because they allow you to look inside the anus as you enter and exit. This visual arousal makes the session more intense and some people find hollow butt plugs very appealing. There are black hollow butt plugs, and these are for those who are looking for functionality only and are less focused on visual stimulation. However, the black hollow butt plugs are attractive and may be a good addition to a black toy collection
Safety
As we also mentioned earlier in the article, safety is absolutely important for hollow butt plugs. You can ensure safety by purchasing the right materials. Stay away from substances like latex and PVC. The best hollow butt plug is the one that it is made of silicone because it is the safest material.
In terms of form, a hollow butt plug with holes is essentially the same as a regular plug. Choose a flared base so that you do not have to face the ugly situation of a hollow butt plug stuck in the anal cavity.
What Should I Use a Hollow Butt Plug for?
Then how to use a hollow butt plug? Anal sex is so fulfilling that sometimes you just need to turn it up a notch to feel intense sensations immediately. However, sphincters are stiff and take a lot of time to stretch. Even when stretched, they still make it challenging to enjoy the fast and deep strokes that make training hot and heavy.
This is where the hollow plugs come into play. Also known as anal stretchers, these hollow butt plugs are the perfect companion for deep anal penetration. The hollow plugs keep the anal opening open during the entire session. This ensures that your sphincter will not close even with the most strenuous movements.
Insertion and removal of Hollow Butt Plug
Different hollow butt plugs have different tip designs, and the design of the tip determines how easy it is to insert the hollow butt plug into the anus. For glass plugs, good stretching ability is required because the toy has a flat, rounded tip. For silicone hollow butt plugs, there are two distinct tip designs, one to match the glass hollow butt plug and the other to make insertion easier. The tip is divided into two parts, with the sides flexible enough to be pushed together. The two parts form a tapered tip for easy insertion. Once in, the tips open again with each tip resting on either side.
In Conslusion
The new ass tunnel is available in medium and large sizes, so grab the lube and get ready for the ride of your life!
This is the coolest hollow butt plug innovation on the gay sex toy market. The Ass Tunnel offers a satisfying ass stretch, but the open tunnel means your partner can see all the way through the hollow butt plug.
Use your imagination to your heart's content, or easily insert a finger or lube directly into the butt plug. Check out the various butt tunnels available in hollow butt plugs.
The hollow butt plug is used in exactly the same way as the butt plug. Remove the lube and apply a generous dollop to your anus and butt plug, then place the tip at the anal opening and gently insert it. The most tip of the hollow butt plug enters you.